News
April 2017
My new novel, The Growing Season, will be published on 7th September 2017. I love the cover, which draws on various elements of the book including biotechnology, nature, a lighthouse, and the tropical indigo hamlet fish! You can read more about The Growing Season on my books page or the Penguin Random House website.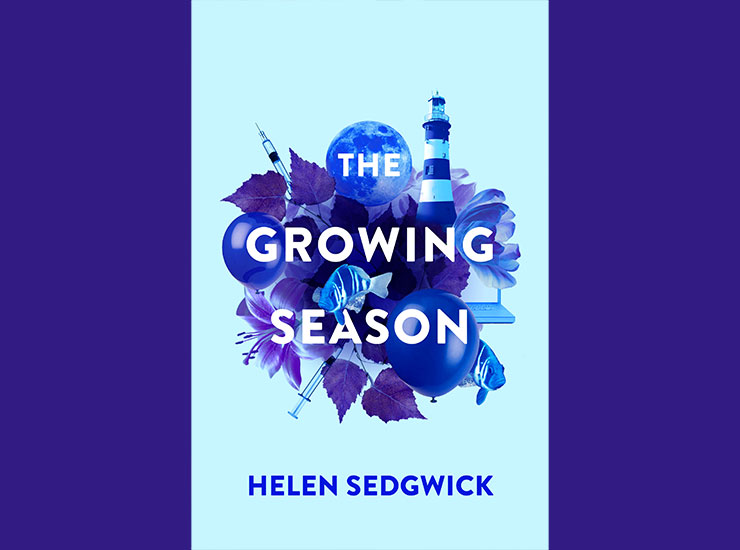 March 2017
I'm excited to show you the new cover for The Comet Seekers paperback, which will be published in August this year by Vintage. I love the hint of something ghostly about the figures, the colours, the night sky (of course) – and that quote from the amazing Marian Keyes.
And The Comet Seekers will be coming out in paperback in US and Canada as well – as you can see, they will be using the UK hardback cover image for the paperback in the states. I love the cover so much, I'm delighted.
I've been quiet on here so far in 2017, but I'm back… And I'm hoping to write in April with more details about my new novel, The Growing Season, which will be published in 2017. And I'm getting married next month. So all in all, it's shaping up to be a busy year!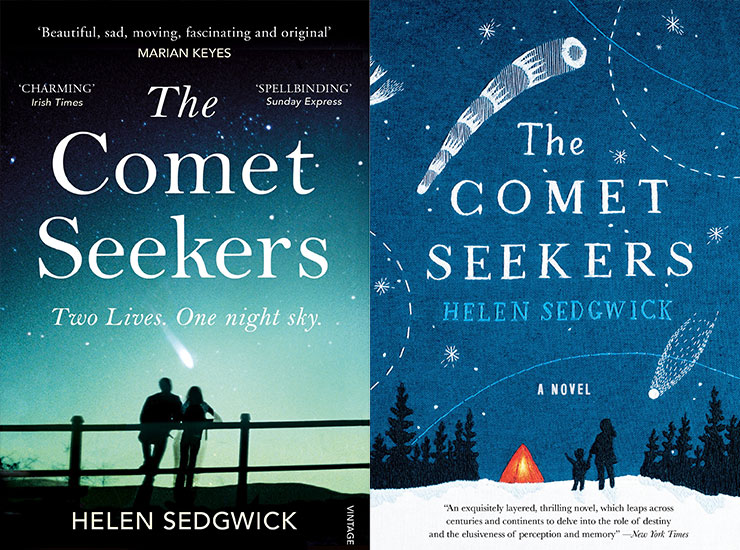 December 2016
December's post is sneaking in just days before the new year, but I'm here and I have news! Earlier this month, The Comet Seekers got a wonderful and unexpected review in the New York Times Book Review from Andrea Barrett:
"A fluid narrative voice, pointedly lyrical and without a trace of irony, gives equal weight to the perceptions of both ghosts and living characters. And, as in the work of contemporary fabulists like Kelly Link, Helen Oyeyemi and Audrey Niffenegger, the real intersects matter-of-factly with the supernatural…Many of this novel's pleasures have to do with teasing out the implications of Sedgwick's intricate pattern…This web of associations, spun by recurring images and figures, lends a different spin to the idea of a love that's meant to be."
It's a fascinating and thoughtful review, and a real honour. Thank you, Andrea Barrett!
My other piece of news, aside from the blizzard and storms (plural) that have kept us company over the holidays, is that my second novel, The Growing Season, is going to be published next year! It's due out in August 2017 with Harvill Secker, and I'm looking forward to telling you more about it as things progress next year.
For now, I'm off to make a rhubarb and berry crumble, so I leave you with this photo of Christmas in the highlands. Merry holidays to you all, and a very happy New Year!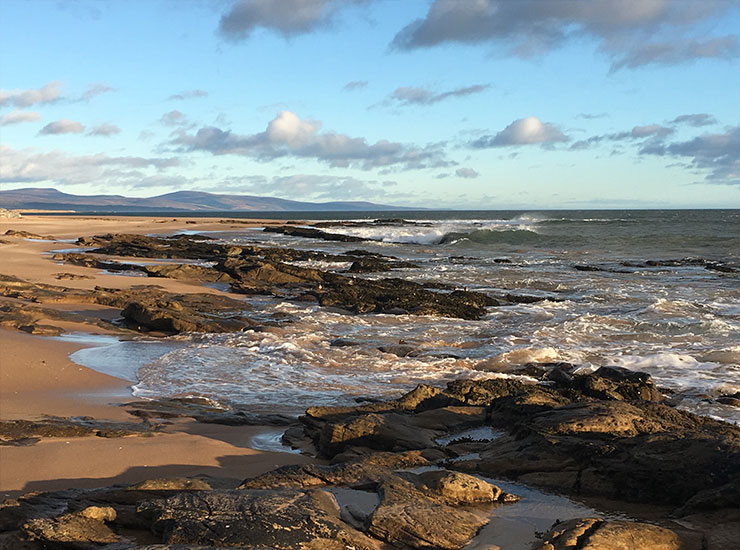 November 2016
The Comet Seekers has been reviewed in the New York Times. Wonderfully they have called my book:
"An exquisitely layered, thrilling novel, which leaps across centuries and continents to delve into the role of destiny and the elusiveness of perception and memory."
I couldn't have imagined a better review (you can read the whole thing in the NY Times) and it arrived just after a wonderful Halloween writers' retreat with my friends and authors Viccy Adams and Jane Alexander. We made spooky lanterns and took a nighttime woodland walk with The Woodland Trust, as well as getting lots of writing done and discussing uncanny fiction and professionalism in the creative arts. 
Later in the month, I'll be appearing at Ness Book Fest, and as part of Book Week Scotland in both Inverness and Dundee. More details on my Events page. Thanks for checking in, and here's a photo of me in the Highlands from Michael Gallacher.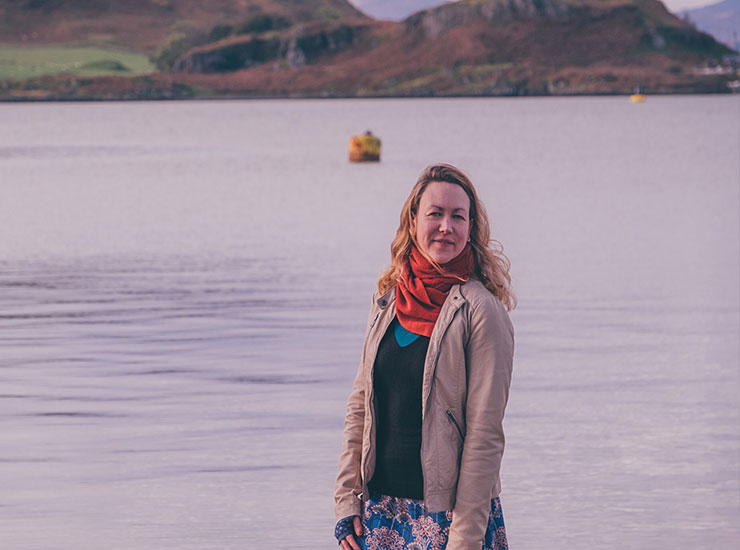 October 2016
October has raced by in a flash of low sun and autumnal colours – I can hardly believe it's nearly November already! This month The Comet Seekers was released in America and Canada, I've been on a podcast for HarperAcademic, listed on BuzzFeed's 24 Brilliant Books for Autumn, and given readings in Durham, Dingwall, and Oban.
To start, here are some photos from my travels, and a picture of the amazing comet-themed cakes that Sarah from Waterstones Oban made especially for my visit!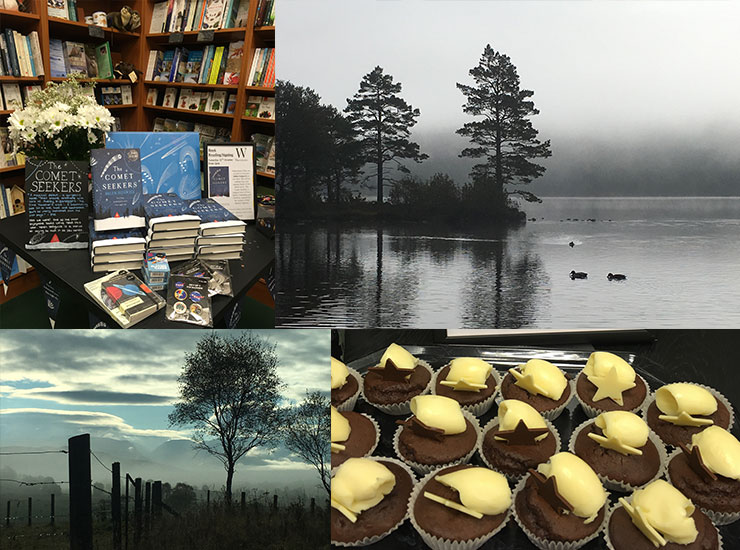 And here are the beautiful book covers from the US and Canada. The US edition on the left is a hardback, and the Canadian on the right is a trade paperback. It's been wonderful to hear from my friends across the atlantic spotting the book in shops and libraries. Thank you to HarperCollins for these lovely editions, and Hello to North America from Scotland!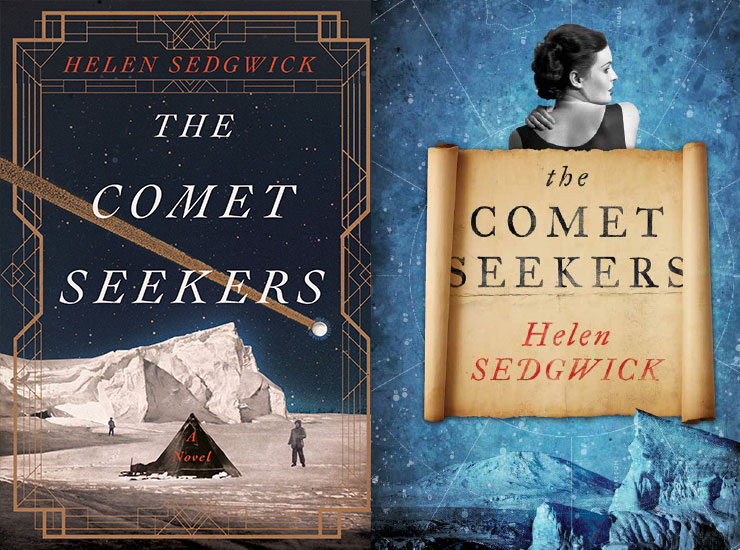 September 2016
August ended with my book launch, and after a wonderful month including events at the Edinburgh International Book Festival and the Book Fringe, The Comet Seekers was officially released into the world. September started with some great reviews – some of my favourites are online and you can read them in the Irish Times, the List, Glamour, Publishers Weekly, and even the Otago Daily Times all the way from New Zealand. 
I took a trip down to London to be on BBC Woman's Hour at the start of the month (for the next few weeks I think you can listen to the interview online here) and I also got to spend some time relaxing with my family and visiting the London Wetland Centre to see otters, cranes, and a beautiful black swan.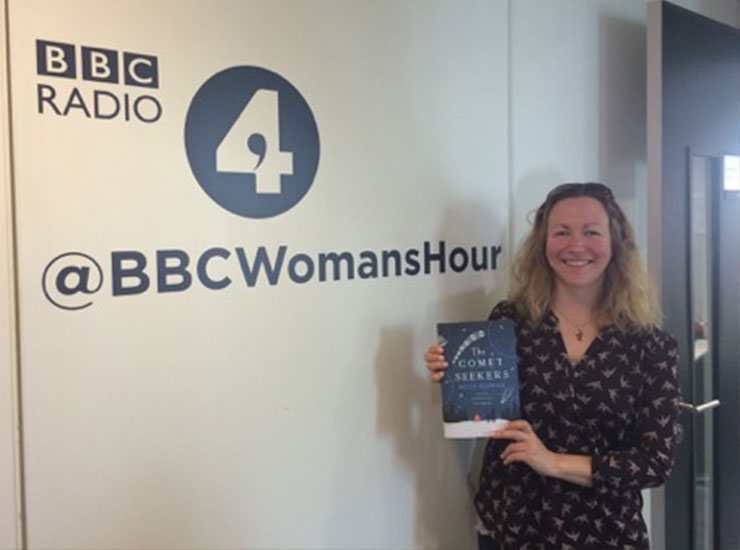 For the rest of the month, my plans include a book launch in Edinburgh on the 14th, and an appearance at the Wigtown Book Festival on the 25th September. And my big news is that The Comet Seekers has been chosen as Waterstones Scottish Book of the Month, which is very exciting – and has resulted in some beautifully creative window displays!
Have a wonderful September everyone, and a fresh and bright start to autumn.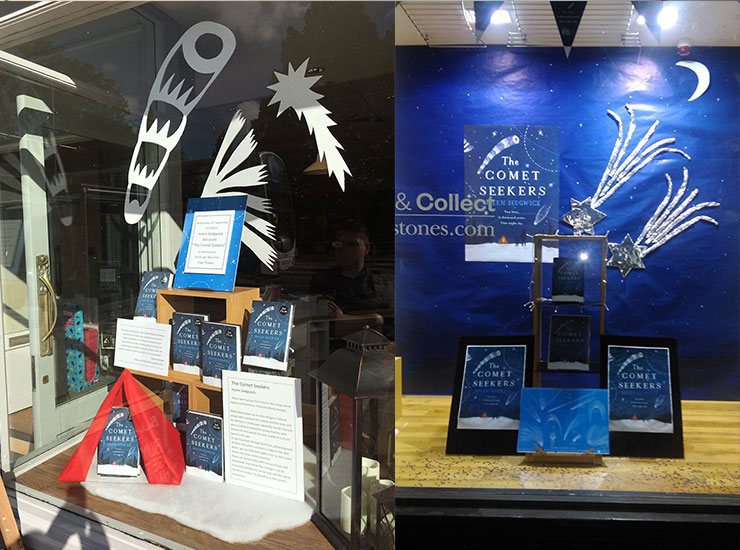 August 2016
August has arrived, and that means it is finally publication month for The Comet Seekers! I have three events lined up in August to celebrate: Edinburgh International Book Festival on the 17th, The Edinburgh Book Fringe on the 18th, and my Glasgow launch party on the 25th. You can read more about them on my events page here.
And in a great start to the month, The Comet Seekers has been chosen as Book of the Month by ELLE. There is a lovely review as well, which you can read in the magazine and in this photo:
July 2016
The Comet Seekers has arrived from the printers! It looks beautiful, with embossed figures and gorgeous bright blue endpapers inside. It's a great feeling to finally hold it in my hands. Here are some photos: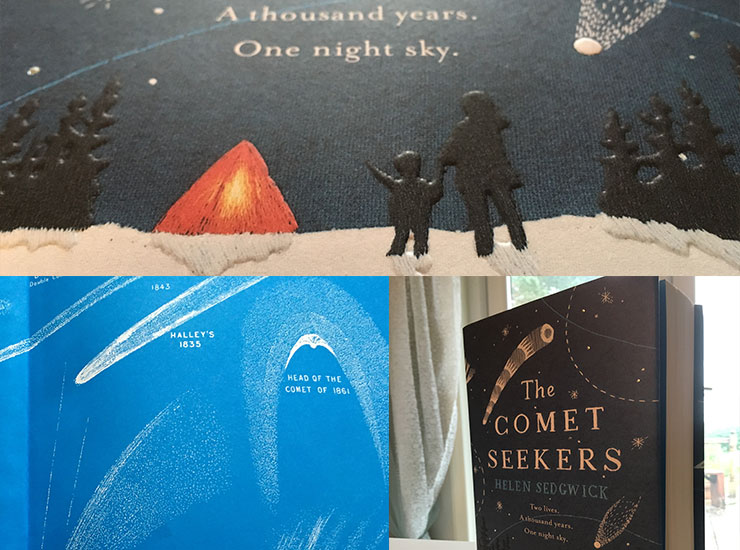 This month I visited bookshops in Glasgow and Edinburgh with my publicist, Anna, to take them proof copies of The Comet Seekers and chat about our plans for publication. In total we visited: Golden Hare Books, Edinburgh Bookshop, Blackwell, and Waterstones on Edinburgh West End, Argyle Street, Sauchiehall Street, and Byres Road. A highlight was getting to sign the famous Edinburgh Bookshop ladder!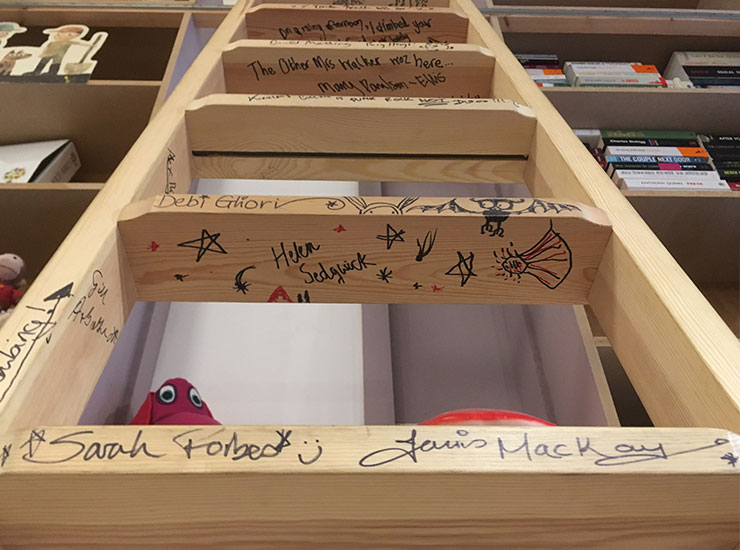 June 2016
I'm just home after a great trip to London: Stoke Newington Literary Festival, bookshop visits, and finally seeing the original embroidery that is being used for the Comet Seekers cover! Here are some photos from the sunny capital during our bookshop tour, in the beautiful and friendly Daunt Books and Dulwich Books.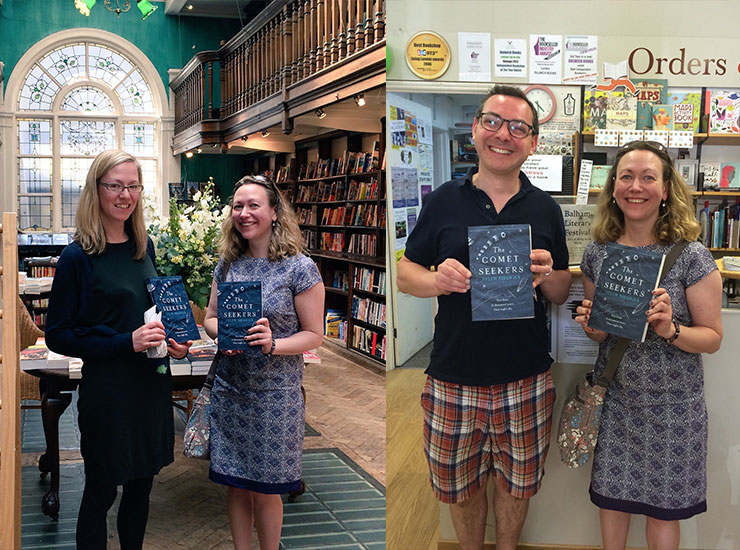 And here are some close ups of the embroidery by Chloe Giordano, which I think is just exquisite. So wonderful to see it in person!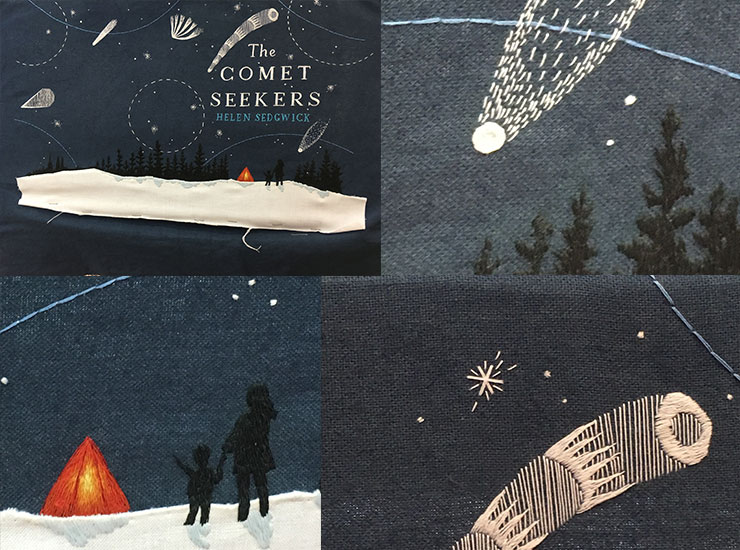 It's going to be a busy month for me – over the next few weeks I'll be heading down to Edinburgh to teach at Grrrl Con, to Glasgow to speak to book groups at the Mitchell Library, and then on twitter as part of Scot Lit Fest. More details about all the events are on my events page here. Thanks for checking in!
May 2016
I've been invited to talk at Alex Clark's Rising Stars at the Stoke Newington Literary Festival. Here's what they say:
"Literary critic for the Guardian and Observer, Alex Clark knows more than most about which new writers are smoking hot, which will break through and what it takes to win over new audiences. She's selected some of 2016's most exciting voices and this is your chance to see them early in their careers."
And while I'm in London, I'll also be going on a bookshop tour – looking forward to talking to the booksellers at (deep breath) Waterstones, Foyles, Goldsboro, Heywood Hill, Hatchards Piccadilly, Dulwich Books, Village Books and Daunt Marylebone!